NanoCoat Clear
Glass Coating for indoor and outdoor glass.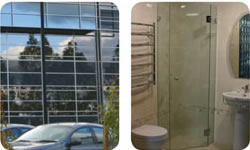 NanoCoat Clear is an invisible glass coating that protects all types of glass. It provides a water repellent, non-stick barrier which prevents glass damage from scale, salt, scum, air pollutants, and other foreign material.
The non-stick protective coating minimises dirt and grime build up on the glass, so glass requires much less maintenance. No scraping scrubbing or harsh chemical cleaners are needed to clean the glass.
The NanoCoat Clear protective coating is chemically bonded to the glass, so will not rub off. This glass protection product does not change the appearance or clarity of the glass and is not affected by long term exposure to heat or UV light.
NanoCoat Clear Benefits

PROTECTION
revents damage from salt, hard water minerals, dirt, grime and soap scum
INVISIBLE
Surfaces look and feel the same after application
ECONOMICAL
Reduces cleaning time and effort along with maintenance costs
WEATHER RESISTANT
Not affected by extreme heat or UV exposure
LONG LASTING
One application lasts 3-5 years in most conditions
EASY TO CLEAN
Water and dirt repellent surface, so no scraping, scrubbing or harsh chemical cleaners needed

Glass Protection For...

BATHROOMS
Shower Screens, Splashbacks, Mirrors
HOME
Windows, Sliding Doors , Skylights, Louvres
OUTDOORS
Balustrades, Pool Fencing,
OFFICE & COMMERCIAL
Glass Facades, Windows, Partitions, Kitchens & Bathrooms
AUTOMOTIVE
Windscreens, Mirrors, Car windows.

Also Ideal For Ceramics

Tiles, bath tubs, basins and toilets.

Buy Online